Happy Monday Morning! It's cold, and rainy here! Ahhh, Ohio fall! We get 2 weeks of beautiful crisp weather, then it rains. It should be snowing in no time! I have PMS so I am allowed to be a downer! Friday was so much fun! We ended up, of course, going to the Bier Haus...original plan was On Tap, but shit changes. I met Bubba and Tayray there, and WG came, then Beth, Brandon, and Todd came out all the way from Akron.
The real DJ wasn't there, some guy that is always there was doing it. But he played requests. We got to hear of course, the must-have' 'pussy control'. We all did the butt, and the hula hoops came out before Bubba and Alan left. While I usually drink, I hadn't gotten my 'drinkon' in quite some time. Proof being, that I danced.
I think everyone spilled at least a drink at the table. I didn't spill one but tapped Tayrays beer so she'd drink it fast and she didn't so I tried to stop it, but you know, that never works, and it squirted all over the place! I resisted the pizza. Which, was my #1 accomplishment this wknd. I got 20lbs to lose man!
We closed the bar! I havn't closed the bar in a long-long time! Ugly lights and all! It was fun! I did nuts and berries shots all night, but Tayray wanted to do tequila. So, we did one. BLE!
Tayray met someonnnnnnnnnnnnne!!!!! Well, I guess you can't really say that, cus he's been around for a while, but they were talking at the bar, all on their own, it was only the cutest thing ever!!!! Then they went out Sat, and Sun too! Drinking! I don't think he'll complain about her drinking! Ahhh, young love! It warms my heart! And aren't they the cutest? Ahnolde who????
Bubba wanted me to display her 'hump'. See if you can find it! lol! This picture, made me laugh for a good 5 minutes Friday night!
After the bar, I went over to Tayray's. WG left at like 12:30 so he was zonked out when I went to Tayray's. He had to work at 5:30 am! I got home at about 3:30, and watched Madonna's documentary for a bit. Ate some food and drank some water, took some advil. You know, hangover stopping techniques.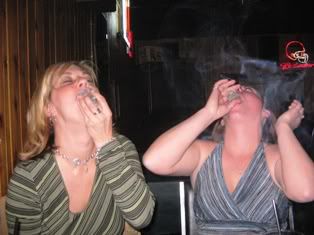 I got my hair did on Saturday. It was a crappy rainy day. Got my hilights a bit darker. It's winter time you know! We stayed in all wknd and watched Lost. And movies. I got my OH-FISHAL library card from the library in my new town. They have a pretty nice library!
They did away with my team, for real this time at job 2. I wont be making near enough money there. I dunno what im gonna do, its better than nothing, but no way will I be taking home 700 a month!
Only like, 3 wks now until WG moves in!!!! He keeps saying things to scare me, like that things will change or whatever. So I told him to stop. I like how things are, if they change it has to be for the better. Then he told me that everything would be ok. I just need reassurance! The good thing is,I can't stay mad at him. When he ticks me off, it usually doesn't last. And, I hold a grudge. So it's a good sign! I'm thinking of revealing him in my blog. Only cus he asks why I havn't. I was protecting his innocence. (sha!)
I made dinner on Sunday. Ranch chicken and angelhair pasta. I used my fresh chives, and Parsley. You know, try to impress the man. I don't think it worked. He said it was good. After I asked. I don't care, cus I liked it! He made pecan pie, and it didn't turn out perfect but it tasted good and I brought some in my lunch today.
(how's that losing 20 lbs going for ya????)
Today's Question:



What question do you avoid the most?
How much do you weigh.
IT AINT NONE OF YO DAMN BIZZZZZNESS!!!!!!