I've been thinking lately, about getting my nose peirced. I have my eyebrow done, and I don't wear it much at all. Mostly, cus I don't have a cute bar to wear, the one I have, has big balls. Go figure. While big balls on a man is ok, it's not ok for my peircing. I just want a little tiny diamond in my nose. Adorable! Before I get too old to still be cool. I decided I'm gonna do it on a girl night some time, for moral support.
I might wait until I can afford to get my back tattoo re-touched and just deface my body all in one night! The black needs redone, and I might change the color of the eyes, and add more color around the black parts on the side. Not sure yet. The face was done like, 8 years ago, when I got divorced! And the sides were done about 5 yrs ago. The sides were done by a friend of a friend as practice for him to get into tattooing. The color never stayed well on that part. I might save that until summer time. Cuz, nothing says I love pain more, than having a tattoo done in the summer when you sweat to high heaven.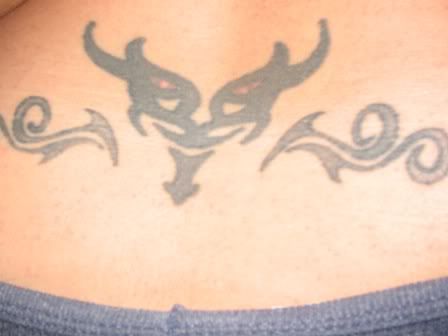 I got the skankiest batch of STD reports last night at job 2. How do I know? Well, when someone has had a previous STD, it takes you extra long to enter the fucking report. You have to search for the prescriptions they were taking for it. So, you notice! Then, as if that wasn't bad enough, their current test that I was entering, was POSITIVE TOO! Hellooooo, first run with gonorreah wasn't bad enough? Had to give it a second shot? Chlamydia anyone? Out of 50 reports I had maybe 10 that didn't test positive in the past, or currently. Doesn't anyone wait until marriage anymore? Condoms? Do they still make them? WTF?
Remember how I'm psychic? I predict this weekend, I am going to a psychic fair with Kat.