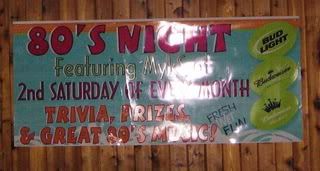 We attended 80's night at the Bier Haus. (Me, Kat, my brother, CP, Tayray, and Todd) It was just as the sign promised...fresh, wet fun! I tried to play 2 games of pool...I got 3 balls in! Yay! CP in true male form had to try to tell me how to play, instead of showing me. So I ignored him. There were contests, and I won a T-shirt from the bar. You had to guess what movies the songs the DJ played were in. I guessed Zanadu. It was the only movie besides Grease I knew Olivia Newton John was in. CP won a Bud Light hat, for knowing the song from Caddy Shack 2. I don't remember what Todd answered to win his prize, but he got a $50 gift certificate to the tattoo joint by our house! Lucky! We played trivia too, they were all movie trivia. I loves the 80's movies!
Kat was in rare form. Decked out in her 80's gear, she actually danced. It's totally unlike her. This is Kat, Me, and Tayray.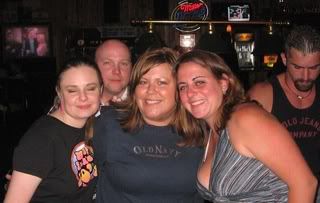 There were some drunk girls there that were a blast and they drug us out to 'get footloose' and 'kick off our sunday shoes'. We did the electric slide, and the Cha-Cha. Tayray and Todd were cutting a rug in their own unique fashion. Todd tried to get me to dance to weird science, ummmm you can't really dance to weird science. I told him we needed bra's on our heads, then we'd be cool. We requested Hangin' Tough. Which was awesome.
The DJ had on some bad ass Madonna buttons. And a bunch of others with phrases that were cool from back in the day. Of course, we played Silver Strike bowling. We downed several of the shots of the month, which were Apple and Melon bombs. They tasted like jolly ranchers. Yum.
Before you knew it, it was 2 a.m. and we left the bar. My brother had to drive Kats little miata to my house. We stopped at the Circle K and I snapped a picture of her passed out.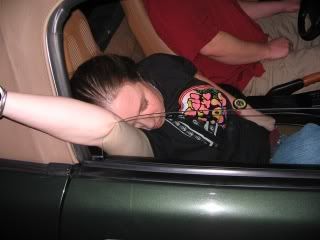 She spent the rest of the night on my bathroom floor, refusing to leave so we could pee, or Derek could shower. She said she needed a towel to 'hug on'. Drunk folks are fun! Me and my brother stayed up and drank at home, and watched the Clerks X anniversary bonus footage, and the world series of Pop Culture. Bed time? 5 a.m. I'm getting too old for this crap! Hey, see ya there, same time next month!