Nothing like feeling the wind in your hair! This, is how little dogs roll. Little Hill is pimpin it. Right? Ridin' dirty, and all that. She loves to go buh-bye! I might have been photographing the dog...instead of paying attention to the road, but... what's done is done.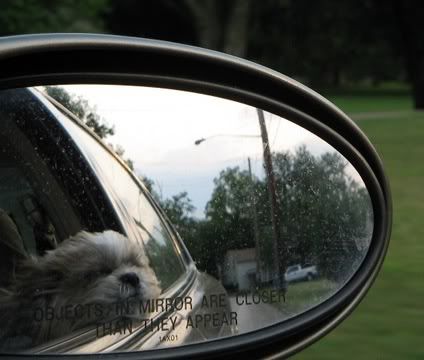 I wanna feel the wind in my hair too! I've wanted a bike forever and a day. We live like, a whole mile from the towpath trail. But, bikes are expensive, ok? We live by a canoe livery and they are selling all their mountain bikes, and buying new inventory. I never have time to stop in to check on them... cus hey, I'm a busy girl. CP went and checked them out, and got us 2 bikes cheap!! Hell Yea! Mine is only a year old, she's still a baby! I'm totally pimping my ride out, with some Hello Kitty. I cannot wait! I'm excited this comes at a time where I need something added to my workout to speed up my weight loss. I've got a good 2-3 months before it snows. I'm already practicing my biking voice. "Passing on the left" see how cool I am?
Hopefully, as an adult, I've learned my lesson in bike riding. You always have to go back. I remember riding far distances as a kid, and thinking, wtf I gotta go all the way back now! I'm so excited about riding my bike this weekend, so I'm sure it'll never stop raining!! Here's to hoping riding a bike.....is.. just like riding a bike. I havn't been on a bike in probably 15 years. I'm old!
Last night I dreamt about cane guy. Remember, one of the 'special' (special I means crazy not retarded) people at my old second job. He was being his typical self, shit in his pants, yelling "Diane Fossey" while snapping his fingers violently to that stupid 60's song....
I'm telling you now
...Come to think of it, it was more like a nightmare. I hope that it's not a sign that I have to go back to work there. Although, the money would be nice!
My friend Katie is having a graduation party tomorrow. She's been in school since 1980 sumethin'. I believe it's 24 years? She's been in college as long as regular school. She's been in school, 1 year less than as long as Tayray has been alive!! Woa. I dunno how she did it being a mom of two. (son, husband, you know...) She will go down in history as the smartest person I know.We've known each other about 18 years, we have a
LOT
of history. So, she's lucky that this is what she's going down in history for. You know I'd never tell...
Tonight, I'm going to a 'suprise' party. And by 'suprise' I mean..."Suprise! It's a sex toy party!" These always prove to be a killer time. Nothin like talking about your sex life (or lack thereof), passing around dildo's and vibrator's and playing pass the penis with a group of friends to round out the work week.