So I did my first real project, in that I made something functional. I made new curtains for my bedroom. JoAnn had a half off sale, so I got the material for $27!! What a bargain! They are far from perfect, I didn't put a topper on top or whatever, but it's my first try. I know better for next time. I used fusable webbing, from Kat, so I didn't sew a thing! They took me 5 hours to make.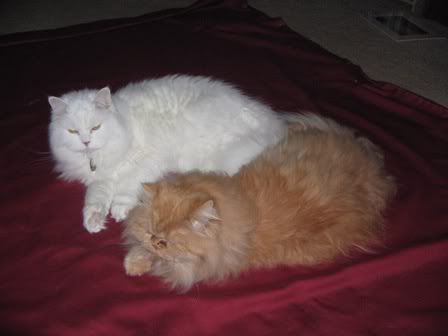 The cat's always lend their help on any project. Fozzie and Fizzgig.
The Iron became my best friend. I took up shop in the laundry room where there is less cat hair!
The quilt my Momma made me that inspired my room colors. Isn't it purdy?
Viola! Done! I hung my fung shuei bells on my curtain rod.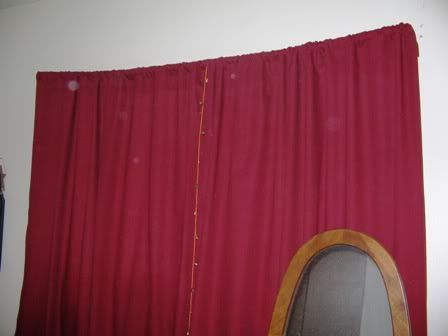 The hooks came out the wall and its bowing, their heavy.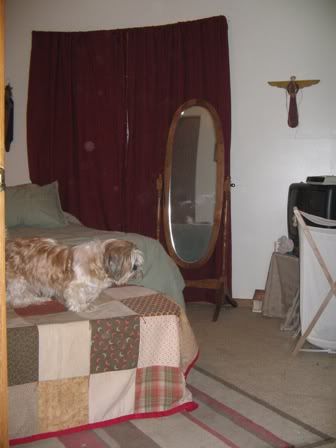 The finished product! I need a new curtain rod now, they are way heavier than the shears I had up, and it looks kinda dumb bowing in the middle. (that's lil Billy)
The bed, minus headboard. My new down comforter that I LOVE! (yea, and the dog)
I call this E.T. Is that Hello Kitty or a dog?
All in all a success. I had fun doing the curtains, I'll definately be making more. Then I'll move on to recovering some chairs the cats destroyed. They aren't noticeably crooked, which is a bonus!