I was working on my template during the outage last night. I havn't had time to do anything more, so deal with it.
I got off work last night! No work! Left Early! Suprised CP who was asleep when I got home and wasn't happy to see me with his grumpy ass, so I went for a walk to return my library books and get more. It was a longer walk in the bitter cold than I thought. But it felt great! When I got home, I cleaned, for 3 hours. I can't even enjoy time off work. If I sat down to watch TV I'd feel like I had to do something. That, and I had some massive crampage, which keeping moving seemed to help. I kept thinking, I have such and such hours til I have to go to bed, what else can I do? I did 2 loads of laundry and put them away, washed my shower curtain, dried it with a HAIR DRYER cus I wanted it to look nice, swept, dishes, dust, etc....
One of my coworkers is leaving us. I got misty when she told me. She started right after I did, and we've been here almost 6 years. She was the first in our department, she knew everything. It's depressing! People should respect the fact that I hate change, and not fuck shit up!
My friend Katie called me this wknd to see the difference between DVR and
T
i
V
o
as she is looking to get a new system, and hadn't had TiVo before. I am a freaking dork, and had taken pictures of my stuff last month, so today, I share this with you!
This is TiVo. He is shiny, and silver. He has a cute TiVo guy on the front. TiVo goes well with other silver appliances, such as my DVD player as shown here, and my pretty TV. I love that cat under the TV.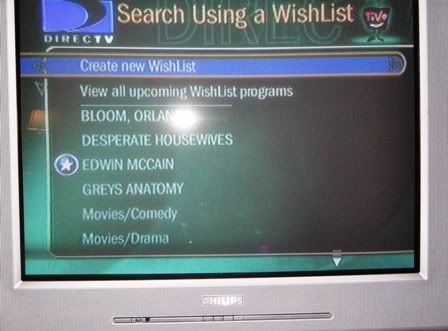 TiVo will make your wishes come true. He aims to please. Simply make some shit up and enter it in, and TiVo keeps an eye out for shows that sound like what you want. As seen here, I have Orlando Bloom, and Edwin McCain to name a few. TiVo will find anything they are in for me. Whether interview, movie, or music. I also have one for each movie category in case I want to look for a good drama. TiVo will auto record anything you tell it to. You can also say, read about things in Entertainment Weekly, and create a wish list for it. Months before it will come on. As seen here, with Desperate Housewives, and Grey's Anatomy, which I never deleted.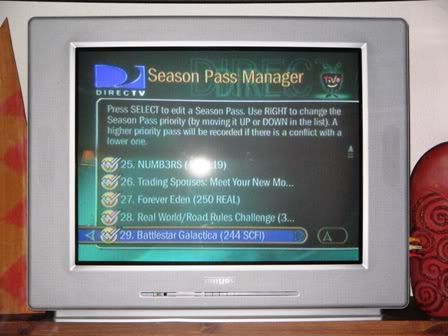 This is your season pass manager. I have 30 shows recording weekly. Sure, DVR has one. But TiVo lets you set priorities to your recordings. In case someone else (not naming names) wants another show to record that is gay, (see, 'numbers' #25) on a day when you are recording something awesome, TiVo knows YOUR show is more important. You can also record 2 shows at once like DVR. Tivo also has a season premiere feature that will show you when all the season premiere shows begin.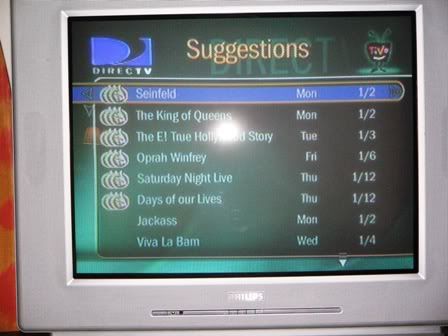 The best feature of TiVo for me, is suggestions. When there isn't jack shit on to watch, TiVo will tell you what he thinks you should watch. He bases this on the shows you watch, have to record, or set in wish lists. As you see here, TiVo thinks I'll like Seinfeld, King of Queens, E! True Hollywood Story, and so on. TiVo is right, I like all of those shows! If you aren't a freaking TV junkie such as me, you can have TiVo just record anything it thinks you'll like, so, when you get home, it'll have found you all sorts of treats to view!!!
Another fun thing, is if you are watching live TV, which no one does much these days....and there is a movie preview on, TiVo will give a thumbs up, and say to press it for more info. If you press it, it takes you to another screeen and gives you inside information on that movie. And when it's done, it takes you back to live TV w/o missing a thing.
It also will do a similar thing during TV show previews, allowing you to record with a simple thumbs up, not having to set anything up on your own. New show...wanna record? Sure!
Today's Question:

What is your favorite TV feature?

Suggestions!