I leave you with this fun for the weekend. Before, and after 50 lbs. I really can't believe I lost
50 lbs. It looks like it when you compare photos. I still have 20-30 more to go, but I'm quite happy with the results so far. Be kind. I'm not this girl anymore thank god. I sure treated myself like total shit! It's hard to find fat pics. Cus I avoided the camera!
This was me in August 2006.
This is me This month, November 2007
This is winter 2006. Debatable if it is February or November.
(nevermind the boob thing. It's how we roll)
uh, yea, horizontal stripes rock on a big girl!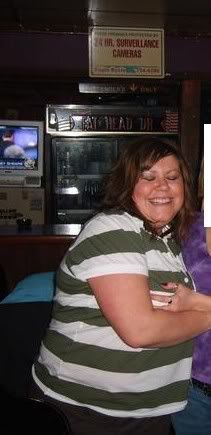 This is October 2006. Nevermind the boob thing. It's how we roll.



Some day I'll have better photos. Like, of me swimming in my size 18 pants. Yea. I said it. Cus it'll never be me again! But I was bored at work so I decided to get something up here. Especially since today I'm feeling lardy!