Did everyone have a killer Labor Day? I sure enjoyed having 3 days off! I got my nose pierced. I'd been tossing the idea around for a while, and got the balls to do it Saturday night. After a long road trip, Taray and Todd went with me. Did it hurt? Well hell yea it hurt like a motherfucker!! Worse than the eyebrow for sure, and your eyes water really bad. Blood? There's a lot of blood! Like having a bloody nose. But it's done and over with. I got a little diamond. Which is the most expensive jewelry I bought myself in years. My sister said I am too old for that. If your too old you're too scared to get it done yourself.
What did CP think? Well, I didn't tell him I did it. I just said I had a suprise, when he got home, looked around the house first to see if I bought something, his guesses were...you bought a new outfit? You dyed your hair? You got a boob job? You got botox? You got your nails done? After about 10 minutes of looking at me, and my asking him to smell and kiss me.....he finally said "Ohhhhhh you got your nose pierced". He is so unobservant! But he likes it too.
I thought it would bother me, but you can't even tell it's in there, and it doesn't hurt at all.
Me and CP took a 2 hour bike trip yesterday. We didn't ride for the whole 2 hours, we stopped for ice cream on the way back. Found an organic store sort of close to home, which rocks. CP needed to fix his bike gear, and in true form, he used the band on his lighter, and a rock, and created a screw driver. I swear that man is Macgyver.
We had some people over for a fire Sunday night for CP's birthday. Everyone partied out early as usual besides the party animals me, Kat and my brother. Me and kat had fun rolling off of the air mattress onto the floor. We laughed so hard I got a pounding headache. Trust me, it was a lot of fun, we're stupid like that. We also burned corn chips, Kat saw it on Survivorman, so we put it to the test. It really works. They make a sweet fire!
I heard through the grapevine, that Edwin McCain (my future husband) was coming to play some golf tournament. I remember hearing a golf ad on the radio playing his song, and I wondered wtf Edwin had to do with golf. My hate for all sports may have lost me a chance to see my man! I'm on the hunt for details. Fear not.
In other news...Our apartment complex was nearly taken over by a giant monster. This was hanging out on Tayray's window all day Monday. I saw it from my car, and I thought it was a bat. I asked my brother wtf that thing was you could see it from next door! I've never seen a praying mantis that big, or brown. Notice, he is eyeing me as I try to get the cigarette pack near it for size comparison. He started moving after that. And I might have screamed like a girl and ran.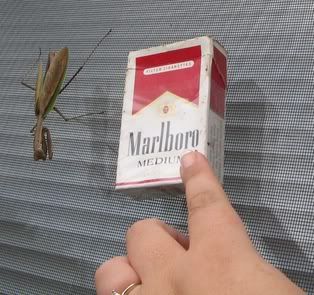 They eat their mates, so I got the fuck away after I took some pictures. I saw a smaller green one on my window a couple weeks ago. But, this bitch was so big, it has a shadow, mkay?
Here's a close up of it
.
I'm super tired today. Why? Because my dog decided last night she was going to go on a humping marathon, and hump anything she could get her paws on. I have no idea what her deal was. Normally she only tries to hump a cat when she is in heat. Or, she humps the bed when me and the man are getting it on. But, there was no on to be gotten last night. The cats were smacking her away, she mounted our feet in the bed, the side of the bed, pillows, and would not stop. She had me up until 2 a.m. with her humpfest.