The hair you brush from 3 of the 4 cats you have, is large enough to be a whole other animal: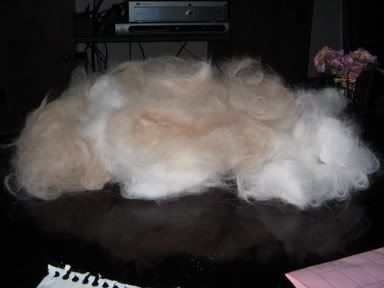 That looks strangley similar to my dog...
I get that amount of hair every time I brush the cats. I wish I could sell it by the pound or something. It seems so wasteful to just throw away.
I did something that I never do the other night. I dressed up for CP. You know, lingere. You might think it's no biggie, but it's huge for me! I had this thing for years, and I never wore it. I took the tags off, and sent the man a text message to work in the form of a singles ad soliciting sex. You know, to set the mood. I asked him to respond with an ETA and that I had a suprise for him. I was nervous for hours until he got home, and I had to be in the candle light, hidden behind the bedroom door until he came in. I dunno why, I just felt silly. I can't take myself seriously, when I'm wearing something I'm not comfortable in. He says he really liked it, but I expected to be ravished for my efforts, ya know?
I told him that next time I want him to dress up for me, he asked what I wanted him to dress up like, but I have no ideas! Any suggestions? He said he'd do it. CP has an interview this week with a new company. This would be a warehouse job. He likes that kinda work, and it's steady pay. Right now, he makes comission, and it's not the same pay each time, and he doesn't make that much at all. Pray he gets a new job so he can afford to keep me in the lifestyle I am accustomed to. Kidding......a little.
So I almost talked myself out of step aerobics last night, cus I forgot to bring socks. And it was 95 freaking degrees! I went, I went! Good thing too, cus that guy I said use to teach the class, taught the class last night. At first, I was laughing out loud to myself. Then, I couldn't stop smiling while trying not to laugh. There is just something about seeing a man that into his step aerobics, pumping his arms, cheering us on, that struck me as hilarious. I didn't laugh for long however, because he totally kicked our asses. He was a lot more hardcore than the regular teacher. When my clothes are soppy with sweat vs. mildly moist, that is my determination of a good work out.
Is anyone else as addicted to Big Brother as me? I'm pretty annoyed that Kayser didn't learn the first 2 times he got kicked off the show, not to trust people's 'word'. Especially not the evil Dr. Will, he's a super slimeball. I personally think it should be on each and every day to satisfy my sick need to snoop into other people's lives.