So, It only took me over a month, but I finally bring to you the pictures from the cabin trip CP took me on for my birthday!
First, here is the adorable Cookie Jar I spent way too much money on for a cookie jar I don't intend to fill with any food product whatsoever. But, you have to love it!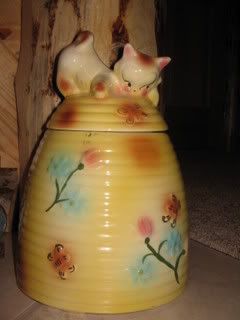 One of the days we went to amish country, and this is one of the
cute farms we passed
. I just love a good farm. I was obsessed with getting a picture of the amish hanging their laundry out to dry, CP had to turnaround for me to get
this one
.
The amish don't like having their picture taken so I couldn't just snap pictures of them in their carts. I made CP pull over so I could get
this one of the horsie
.
Here is a picture of
all my loot
that I bought at the antique mall and surrounding stores. I love me some old shit. Well, CP bought it actually.
*Unless you're Edwin. I always have time for you sweetness!