I spent far too much money this weekend. But it felt good to buy myself things, cus I never really do, aside from the monthly or bi monthly shopping sprees w/the gals.
I took my mom out Saturday and I got this
bedding featured in the Bed Bath and Beyond ad
. I'd been wanting to do my room turquoise and brown, and this was perfect! It came with everything, the pillows, shams, skirt, comforter, and valances, plus two sets of sheets. I must have carted around three different sets, because it turns out in real life this bedding is not this color at all. But I couldn't get everything this came with for the same price, and I really loved the look! So, I got it. And....I love it!
This is an example of my old colors, including the dog....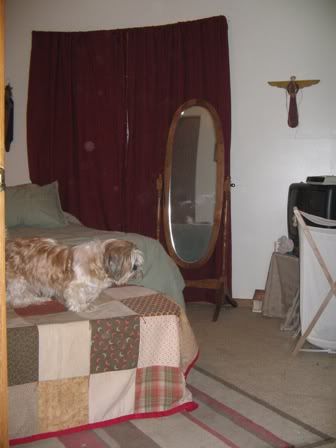 And The new! I also scored this bad-ass Buddha head at World Market, I also got one for my guy for his housewarming gift, he loved it!
I took the curtains down and put up my bamboo blinds, which are obviously too big for my windows but In real life you can't tell as much. To take a picture with no pet in it is near impossible. Thats my Fizzgig in the forefront.
I got that bench in the trash a while ago at the end of the bed. I'm gonna paint it white like my other accents in the room.
I put my "throw" that came with the set on my table in the corner as a tablecloth.
Closer view of the windows.
Have I ever mentioned how much I love pillows? These were my 6 but I got new shams, and the little decorative pillows are new. That's Pickachu enjoying the roll pillow, he's my big boy! And the white blur is Fozzie.
Close-up of my new Buddha. I mean, do you love it or what?
I repainted my Dream....I'm not so sure I love it. I think I'm going to do it in white, and antique it. It use to be sage, antiqued.