I might finally have recovered from my weekend! Friday night was so freaking awesome! We got to meet Bret Michaels...no, we got to go on the TOUR mutha fucking BUS mkay? How awesome is that?
We stood in the freezing cold until they called the VIP's to the front. Thank god, because I had a few beers before hand and I had to piss like you wouldn't believe. There was a special seating section for us, but it was at the back of the dance floor, so we opted not to sit there in favor of having a much better view of his hotness. We had lots to drink. Shots. Of crown. Bleh. The radio DJ told us that Bret was sick, so we were sorta worried we wouldn't get to meet him, but when he told us we would get to go on the bus, that's all we talked about.
Oh we had a perfect view of him.
I kept trying to take that dudes khaki hat in front of me for Bethie's sister, she said she wanted it. And I was drunk, so shut up.
The same with my videos, it was hard to stand still to take pictures and videos. One, I had like 8 beers, and several shots. Two, you can't stand still when you're rocking out to songs like, talk dirty to me, and fallen angel. Ya hurr?
Here's a few more concert pics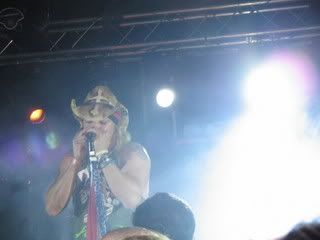 And I saved the best for last! After the concert, they ushered us to the back door of the club, all official-like. Dude who worked for Bret said I'll knock on the door and you come out. There was 8 of us who got to go on the bus. We lined up, and they told us to go on the bus and "have a seat". You know, have a seat on the bus with Bret, like we're old friends!
Once on the bus, Bethie showed him an old magazine she brought with all these old pictures of him and Poison, he got a kick out of it, and told her to scan it and email it to him. Yea, like everyone emails Bret Michaels.
I'm linking these pics so I can keep their size, so be sure to clickity click for the good ones. We got
our autographs
. (Um, you might get to see some package in that one I like to think you can) And we got our pictures!
This is Bethie and Bret
. And if I ever took a good picture with a famous person, I might die the next day. But,
this is me and Bret
. Nowhere near as horrible as my picture with Edwin though.
And, in true stalker fashion,
I took this one of the shit he had on the bus
, you know to see what he likes to eat and drink. Saves you from digging through the trash and whatnot!
He was totally cool. Asked if we had a good time, said he wasn't feeling that great and he apologized. We of course, said we had a blast. You know, he's just a regular guy. It's so hard not to get starstruck though!
He gave everyone a guitar pic...but I didn't get one. But he was awesome about it, he said not to leave, he was going to get one for me. I didn't get sold out, I got my pic! Isn't he the sweetest ever? *swoon*
Kat wanted me to grab his crotch, which is always easy to say when you aren't there. That dear readers is the kinda girls I roll with. After we got off the bus, we met Bethie's sister and her friend on the sidewalk screaming. Everyone was jealous. Which was awesome. I've stood outside many an Edwin bus in my lifetime. I know how it is folks. Eventually, you get your lucky day.
I had to pee so bad on the way home from Bethies. So bad. So, when I got home I peed my pants. Because I knew I was home I guess. I woke up to my draw's in the sink, my pants in the tub. Half eaten vegetable lasagna in the kitchen, a 'lost' bank card, my autograph next to my bed, and me on the couch, watching the original Real World on DVD, in a t-shirt and no draws with an afghan and no pillow. Um, I passed the fuck out. At some point I got up and threw up vegetable lasagna because that was in the toilet. This is why I like my beer. I don't ever get sick from it. Oh well, I met Brett Michaels!
Here are a couple of videos that I took. Don't be disappointed. I didn't have enough memory to keep the long ones, and have some pictures. When I ever get a job, I am getting a spare memory card. It's still kinda cool to see!
This is one of him Jamming before singing "I won't forget you" telling us that we helped make it their first big hit.
And this one is "Every rose has its thorn
" which, besides Talk dirty to me, has to be Poison's best song ever.
And, as I was sitting at kat's house, posting my awesome experience, with a smelly fish breath Conley on my lap...I got a call for an interview tomorrow morning! I have to nail this. It's the one at the Jewelry company. It pays decent. It's not THAT far from home, and they have a fitness center. AND the workday starts at 8:30. That's a far cry from 7:45 which I did for 7 years. Mkay? Good thoughts. Send me positive thoughts. I need all the help I can get. Only the second interview in a month.